Azimuth
You probably that planets go around the sun in elliptical orbits. But do you know why?
In fact, they're moving in circles in 4 dimensions. But when these circles are projected down to 3-dimensional space, they become ellipses!
This animation by Greg Egan shows the idea: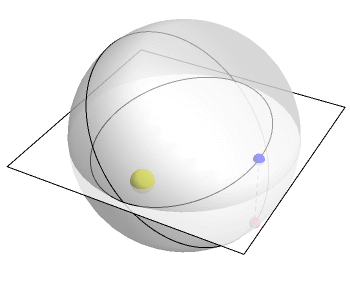 The plane here represents 2 of the 3 space dimensions we live in. The vertical direction is the mysterious fourth dimension. The planet goes around in a circle in 4-dimensional space. But down here in 3 dimensions, its 'shadow' moves in an ellipse!
What's this fourth dimension I'm talking about here? It's a lot like time. But it's not exactly time. It's the difference between ordinary time and another sort of time, which flows at a rate inversely proportional to the distance between the planet and the sun.
The movie uses this other sort of time. Relative to this other time, the planet…
View original post 2,172 more words